Biography
---
ABOUT
---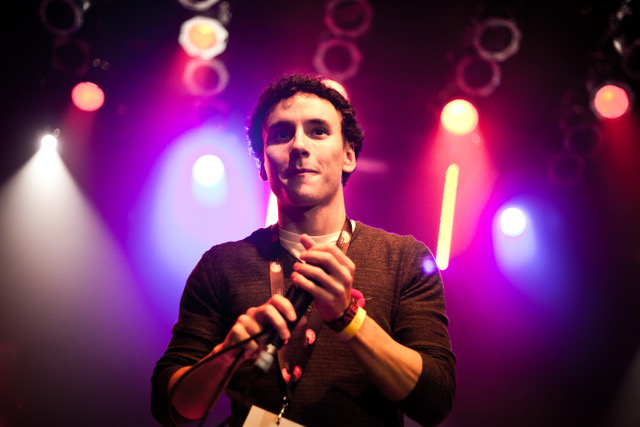 When Peterpot picks up to the mic, the sounds of a human beatbox emerge.
During his visceral electrifying live performances, Peterpot pioneers a hybrid genre of inspiration, humor and storytelling over a framework of rhythm – a combination that has helped him share his story with a wide range of audiences both young and old.
How does one become a professional beatboxer – a vocal percussionist that artfully mimics drum beats, turntables, voices and special effects all with nothing but their mouth? Well for Peterpot (aka James McInnes), the road to becoming a professional artist was the journey of an often-isolated youngster growing up in foster care, just looking for an opportunity to connect with others and bring them joy – pure and simple.
After seeing magician David Blaine on a TV special, Peter was drawn to Blaine's unpretentious street-style and was inspired with how Blaine could use his talent to bring joy to everyday people on the street. Having recently started high school at the time, Peter vowed to spread happiness and inspiration in much the same way and soon began to experiment with learning his own slights and illusions. Not long after Peter discovered his true calling and creative outlet in the form of beat boxing, after some friends recommended that he check it out online after he was making noises in class. It was in that same class that two of his friends gave him a pineapple with sunglasses on his 18th birthday, which he named Petri. The two became best friends and the rest is history.
Here is a brief timeline of some of Peterpot's watershed moments as an artist:
2008
Launched professional beatbox career after winning the Calgary Stampede Talent Search – Canada's largest youth talent competition
2010
Performed with renowned acapella group The Earthtones at the Michael Jackson Tribute concert at the Rock and Roll Hall of Fame in Cleveland, Ohio
Featured in Samsung commercial for Vancouver Winter Olympic Games
Graduated University with Bachelor of Business Admin Degree – Major in Accounting
2012
Won the second ever online wildcard competition and competed at the 3rd World Beatbox Championships in Berlin, Germany
Launched the I Love Beatbox brand to help unify the global community, selling thousands of wristbands worldwide worn by beginners and world champions alike
Competed and was runner-up at Canadian National Beatbox Championships
2013
First overseas tour – Performing 6 weeks in the United Kingdom with motivational Hip-Hop crew Legacy One
Competed and won the Canadian National Beatbox Championships
2014
Live headline act performing for 220,000+ over 11 nights at The Calgary Stampede Grandstand Show
Overseas Tour – Performing 4 weeks in Malta with motivational hip-hop crew Legacy One
Highlight Act and workshop instructor at the 2014 Calgary Children's Festival
Competed and was runner-up at Canadian National Beatbox Championships
2015
Represented Canada competing in the 4th World Beatbox Championships in Berlin
Overseas Tour – Performing 6 weeks in South Africa with motivational hip-hop crew Legacy One
2016
Performed with acclaimed choir Revv52 at Mount Royal College's Bella Concert Hall
Performed and taught at SING! Toronto Vocal Arts Festival
Feature entertainer in nationally broadcasted H&R Block National Tax Rally